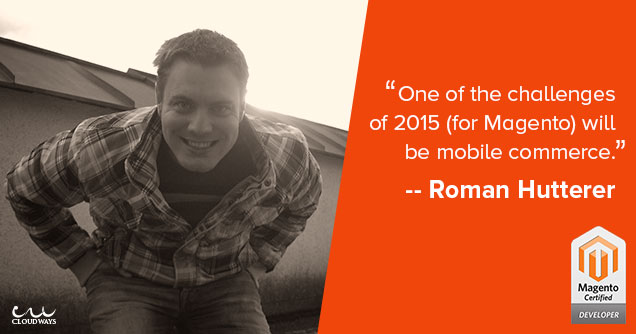 Im Jänner 2015 ist Wajid Hussain von Cloudways an uns herangetreten um ein Interview mit unserem Zertifizierten Magento Entwickler Roman Hutterer zu führen.
Wajid ist Community Manager im Bereich Magento bei Cloudways, einem Anbieter von Cloud-Lösungen unter anderm pezialisiert auf verschiedene Magento.
Die Fragen drehten sich, neben ein zwei persönlichen, um Magento, die Magento Community und den Erfahrungen damit.
Hier ein kurzer Auszug aus dem Interview:
…

Cloudways: Flawless performance of front-end and back-end infrastructure, and optimization is the sole criterion of judging the credibility of a Magento-based ecommerce website. What would you suggest for ensuring optimized Magento performance?

Roman: Magento must be configured the right way and you have to know what you do. To get a really good performance, you have to know how the system works "under the hood". Don't misunderstand this. I think Magento is a very good software but it's not perfect and there are some issues that you need to tweak to get the best results.

Cloudways: What challenges do you think Magento might face in 2015?

Roman: I think there is no ecommerce software like Magento. One of the challenges of 2015 will be mobile commerce. This part of online commerce has huge growth rates. Also, social commerce is emerging too in my opinion. And, last but not least, there is Magento 2 which is actually in Developer Beta and hopefully, it will be released in Q4 2015.

…
In Summe Das gesamte Interview kann gerne hier nachgelesen werden.